Links
Comar Whippets and Terriers.
We are so honoured that Christopher O'Mara came to our kennel to find his foundation of show Whippets.  Over the years Christopher has become our trusted friend.  We support him. If you are looking for pajamas for your Whippet follow the link to his website.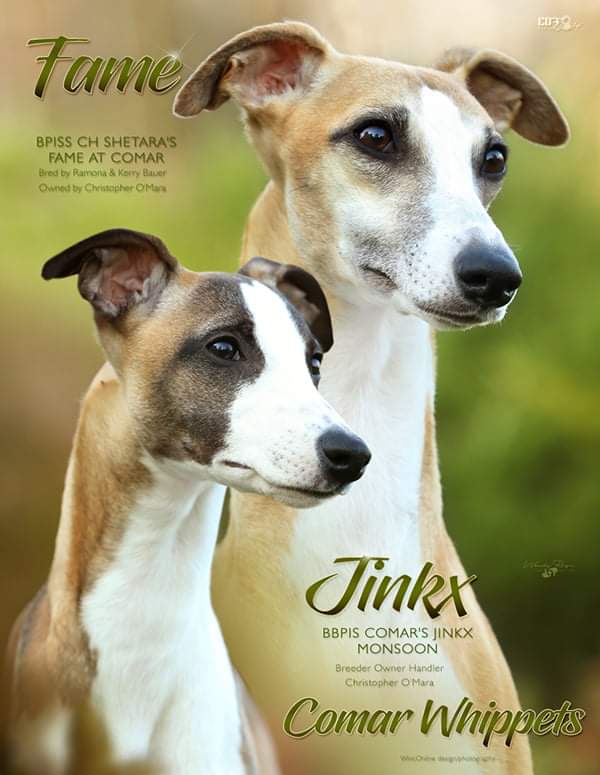 Here is a link to Comar Whippets  https://comar.ca/
The Whippet  Archives where you can view thousands of pedigrees of Whippets from all over the world (including ours of course)  https://whippet.breedarchive.com/animal/view/shetaras-she-smiled-sweetly-937bf36d-8d69-4c51-b77f-b851cc0896e6
http://thewhippetarchives.net/results.php?keyword=shetara&mode=simple
The National Whippet Club of Canada provides information about this breed and hosts the annual Canadian National Whippet Dog Show.  You are welcome to become a member (but it not necessary to enjoy the site, participate in shows or trials or to just own your own Whippet!)
The Whippet Club of America is very similar to the Canadian Whippet Club.
http://americanwhippetclub.net/
The Canadian Kennel Club has information available about the breed standard.  The CKC provides a registry for all purebred dogs in this country.
The Whippet Club of Eastern Canada
search Facebook: The Whippet Club of Eastern Canada